March 22, 2021
Hong Kong's Struggle for Liberation and Democracy
By: Agnes Wong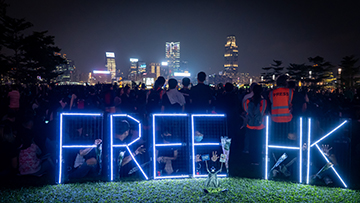 "Liberate Hong Kong, Revolution of Our Times". The use of this slogan frequently employed during protests as a call for Hong Kong's independence is now considered to constitute the criminal offence of "secession" under the National Security Law (NSL). This law came into force by way of executive promulgation in China, essentially by-passing approval through the Hong Kong legislature and escaping public scrutiny. In recent months, the people of Hong Kong have been abruptly robbed of their freedoms and the liberties they previously enjoyed under the policy of "one country, two systems". Now, future generations stand to lose these essential rights and freedoms as many have been forced to uproot their lives and seek refuge abroad, while others have no choice but to accede to this new law, which will likely further repress individuals' rights, opinions, beliefs and thoughts.  This paper will argue that China's enactment of the NSL represents an ominous effort to encroach on the fundamental human rights of individuals in Hong Kong that will ultimately forcefully convert what was once "one country, two systems" into "one country, one system". First, this paper will outline the history of the pro-democracy movement in Hong Kong, which has been aggressively opposed by Chinese authorities. Second, this paper will analyze the way in which the NSL contravenes Hong Kong's constitution, the Basic Law, as well as international laws that guarantee fundamental human rights and standards. Finally, this paper calls for greater international pressure to be exerted over China to deter Chinese authorities from continuing to infringe the individual rights and freedoms of individuals in Hong Kong.  Things are quickly changing in Hong Kong. China is increasing its authority over this region, and it appears as though no one can stop it.
1)    HISTORY: THE HANDOVER AND THE PRO-DEMOCRACY MOVEMENT
When the former British colony was returned to Chinese sovereignty in 1997 under the "one country, two systems" policy, the people of Hong Kong were guaranteed 50 years of effective self-rule. It was unclear what was to happen at the expiry of those 50 years. In any event, less than halfway through this period, China has taken increasingly bold and aggressive steps to thwart Hong Kong from maintaining this policy for the entirety of the 50 years. 
In 2003, Chinese authorities attempted to introduce anti-subversion legislation that prohibits treason, secession, sedition and subversion against the Chinese government.  The response was mostly peaceful protests by over 500,000 people in Hong Kong. Consequently, the legislation was ultimately shelved. In the years to come, China would later re-introduce a similar piece of legislation, now known as the NSL, discussed further below. 
In a more subtle fashion, in 2012, Chinese authorities tried to revise Hong Kong's education curriculum so that it would incorporate topics on China's history, culture and national identity. However, this subtlety did not escape the people of Hong Kong. Tens of thousands of people took to the streets to oppose China's seeming brainwashing attempts. Joshua Wong, aged 15 at the time, who would later become a prominent figure in the pro-democracy movement, formed a group called "Scholarism" as an opposing response to the proposed curriculum changes. By the fall of 2012, the proposed curriculum amendments ultimately failed.
In September 2014, the "Occupy Central with Love and Peace" campaign, more commonly known as the "Umbrella Movement", commenced. As it currently stands, Hong Kong's Basic Law under Article 45 mandates that Hong Kong's Chief Executive "shall be selected by election or through consultations held locally and be appointed by the Central People's Government." This ultimately means that China has the final say in who is elected in Hong Kong. Protestors' campaign was a call for reform to Hong Kong's electoral system in support of universal suffrage and a democratic electoral system. In response, the police used tear gas, pepper spray and batons in an effort to disperse protestors. As an intuitive reaction, protestors used common household items – umbrellas – to shield themselves from police tactics. The protests lasted 79 days as individuals camped out in the streets. Protesters eventually grew tired and the crowds dissipated as they were not sufficiently organized to synthesize their demands into one single, unified voice. Ultimately, universal suffrage was not attained.
Two years later, six pro-independence candidates sought to run for office in the Legislative Council. However, the Electoral Affairs Commission banned all six from doing so. It can be surmised that this was the result of China engaging in the political screening of candidates. This led to thousands of people protesting outside of the Hong Kong government's headquarters, marking the first pro-independence protest. These protests remained peaceful and eventually dissipated. However, these protesters eventually gained significantly wider public support in 2019.
The Umbrella Movement was revived in response to an extradition bill (known as the Fugitive Offenders and Mutual Legal Assistance in Criminal Matters Legislation (Amendment) Bill 2019) introduced in 2019 by Hong Kong's Legislative Council and backed by China. The bill would have permitted the transfer of suspected criminals from Hong Kong to China to stand trial. In response, on June 9, 2019, over 1 million protestors participated in mostly peaceful demonstrations. Violent scenes of police brutality in response to these protests pushed the Hong Kong government to suspend the legislation in the following days. By the following week, protesters totaled over 2 million people. They collectively formulated a comprehensive list of five key demands, specifically: (1) the extradition bill was to be withdrawn; (2) protests would not be characterized as a "riot"; (3) amnesty would be given to  arrested protestors; (4) an independent inquiry into alleged police brutality would be made; and (5) there would be implementation of complete universal suffrage. In October 2019, the extradition bill was ultimately withdrawn as a result of the protests. However, by that time, protests had evolved with deeply rooted demands for democracy and anger against the Hong Kong government, which would continue beyond October 2019. Indeed, protestors still had four demands left to be met, "not one less". 
As protests continued, Hong Kong, and the world would be faced with a new challenge: COVID-19. Compared to other countries, Hong Kong had largely contained the spread of cases of COVID-19, especially at the outset, however, emergency restrictions were imposed by the government in Hong Kong and extended well into 2020. It can be surmised that China used the pandemic as a pretext to thwart Hong Kong's pro-democracy movement. This argument is further substantiated with the passing of Hong Kong's NSL, on June 30, 2020 at 23h00 when it hastily came into effect.
2)    NATIONAL SECURITY LEGISLATION
The NSL is far reaching, overly broad and vague and criminalizes conduct that would encompass organizing, planning or participating in peaceful protests in support of Hong Kong's independence and democracy. Echoing the 2003 anti-subversion legislation, the NSL, inter alia, criminalizes "secession" (articles 20-21), "subversion" (articles 22-23), "terrorism" (articles 24-28) and "collusion with foreign forces" (articles 29-30). All offences are punishable by a maximum sentence of life in prison. Further, anyone convicted of NSL crimes is barred from running for political office for life (article 35). 
Upon closer analysis of the NSL, the offence of "subversion" (article 22) includes conduct such as "interfering in, disrupting or undermining" the functions of the Chinese or Hong Kong governments, thereby potentially capturing peaceful pro-democracy protests and the exercise of the freedom of assembly. The NSL explicitly includes in this offence anyone who attacks or damages government premises and facilities (article 22(4)). In the same vein, the offences of "secession" and "subversion" criminalize peaceful conduct in support of independence and pro-democracy for Hong Kong. These offences are in direct contravention of Hong Kong's constitution, the Basic Law, specifically article 27, which provides for freedom of speech, freedom of the press and publication, freedom of association, assembly, procession and demonstration. 
In addition to defining these offences, the NSL gives police new broad powers of warrantless search, covert surveillance, seizure of travel documents of those suspected of violating the NSL and freezing and restraining of assets, all without prior judicial authorization (article 43). These powers run contrary to articles 28 and 29 of the Basic Law, which prohibits arbitrary or unlawful searches of any person or residence.
Perhaps more troubling are the safeguards the NSL puts in place to protect China's oversight of the implementation of this law. Those arrested or suspected of committing crimes under the NSL are subject to investigation and prosecution in a separate forum from those ordinarily charged with a criminal offence. Instead, a special department of the Hong Kong police investigates and handles political crimes (article 16). The NSL provides that cases tried under the legislation can be closed to the public where the matter involves state secrets (article 41, 46).  Yet, the term "state secrets" is not defined under the NSL, leaving the interpretation of suspicious conduct to be overly broad. Those suspected of violating the NSL are denied bail unless they can demonstrate they will not continue to commit national security offences (article 42), a significant constraint upon the defendant. Indeed, on July 1, 2020, Mr. Tong Ying Kit was charged with secession and terrorism offences after riding his motorcycle through the Wan Chai area while hoisting a flag containing the slogan, "Liberate Hong Kong, Revolution of Our Times". After by-passing two police-formed "checklines", Mr. Tong Ying Kit rode his motorcycle into a group of police officers, three of whom sustained physical injuries. Mr. Tong Ying Kit was initially denied bail under the NSL, and although he later brought an application for a writ of habeas corpus to challenge his detention, that was ultimately  dismissed. Unsurprisingly, the accused's subsequent bail review application was denied. Although the court provides reasons for dismissing the application, they are largely redacted. 
Where "national security" is at issue, specifically designated judges shall be assigned to handle cases concerning matters of national security (article 44(3)). Indeed, this was done recently where Mr. Tam Tak Chi, whose matter was before the District Court of Hong Kong, was ordered to be dealt with by a designated judge, pursuant to the NSL. It should also be noted that "national security" is not defined in the NSL, and, as a result, could encompass a broad range of conduct.  Perhaps more menacing is the fact that the NSL establishes "the Office for Safeguarding National Security" (article 48 and 55). The purpose of this office is to oversee and assist Hong Kong government agencies in "safeguarding national security".  Those working in this office are composed of officials from China who are not bound by local laws, nor are they subject to Hong Kong law enforcement powers (article 60). Any trials overseen by this office are subject to Chinese laws (article 57). In the event that Hong Kong laws are inconsistent with the NSL, the latter ultimately prevails (article 62).  This essentially means that where alleged criminal conduct reaches the realm of "national security", which is not defined under the NSL and likely subject to Chinese officials' own interpretation, Chinese authorities can take over an accused person's trial and subject them to Chinese laws. It is unknown whether any such proceedings would be open to the public. Hong Kong, which is rooted in British Common Law, is generally outside the legal jurisdiction of China, except on constitutional issues. 
At the same time, the NSL has already been shown to impact the everyday lives of ordinary individuals in Hong Kong. Soon after the NSL came into force, schools were ordered to review their book collection and remove any that "possibly violate" the NSL. This creates a clear violation of the rule of law because without a clear definition of "national security", the NSL makes it difficult to determine what conduct constitutes criminal offences. Similarly, public libraries later put at least nine books written by pro-democracy leaders under review. Businesses have likewise removed pro-democracy posters from their venues.
The NSL also purports to capture the conduct of individuals abroad, no matter what their citizenship. The scope of the application of NSL goes as far as to criminalize the conduct of those allegedly committing offences listed in the NSL outside of Hong Kong or China (articles 37 and 38). This means that anyone around the world supporting independence for Hong Kong could be arrested should they find themselves travelling to Hong Kong in the future. 
3)    INTERNATIONAL PRESSURES AND A DIRE OUTLOOK
After having already thwarted many protests and demonstrations in the name of democracy and independence in Hong Kong, the NSL is representative of China's efforts to further encroach on the rights of individuals in Hong Kong, all in an effort to force an assimilation into "one country, one system". However, it is clear that the NSL contravenes international human rights that protect the freedom of expression, freedom of assembly and freedom of the press. The NSL's overly broad or lack of definitions of offences could lead to arbitrary detentions and arrests for conduct as basic as peaceful protests in support of Hong Kong's independence. 
The NSL has serious implications that contravene the Universal Declaration of Human Rights (UDHR) and the International Covenant on Civil and Political Rights (ICCPR), as expressed in an open joint letter that the UN dispatched to China in September 2020. For instance, the letter notes that the NSL defines the offence of "secession" broadly to include "undermining national unification", which could include conduct such as publishing opinions contrary to the Chinese Government's views. Similarly, "subversion" could be applied to cast a wide net over "political" conduct thereby punishing people for what they think (or what they are interpreted to think). Ultimately the NSL criminalizes freedom of expression or any kind of criticism made against the government, which is protected under articles 19 and 20 of the ICCPR. 
In the result, political groups in Hong Kong have dispersed. Demosisto, the political organization formed by Joshua Wong, Agnes Chow and Nathan Law disbanded immediately after the NSL was enacted. Meanwhile, Nathan Law fled to London. In December, 2020, five months after the NSL came into force, the court took a heavy-handed approach when imposing sentences on Joshua Wong, Agnes Chow and Ivan Lam for their involvement in pro-democracy protests prior to the enactment of the NSL. They were charged under Hong Kong's Public Order Ordinance, which is the principal law in Hong Kong relating to the maintenance of public order and the control of organizations, meetings and processions. More specifically, the sentences relate to charges arising from the June 2019 protests in opposition to the extradition bill, in which Joshua Wong pleaded guilty to organizing an unauthorized protest outside of police headquarters, Agnes Chow pleaded guilty to incitement and attending the protest and Ivan Lam pleaded guilty to incitement. Joshua Wong received a sentence of 13.5 months in jail. Agnes Chow was given a sentence of 10 months in jail, and Ivan Lam is to serve 7 months in jail.  In the global sentencing decision , the Hong Kong Magistrate found the three defendants protested for a period of about 15 hours (para 8). The seemingly severe penalty for individuals' brief exercise of freedom of speech and association reflect the backdrop against which this high-profile case was decided: China is continuing to aggressively move towards "one country, one system". Agnes Chow, fluent in English, Cantonese and Japanese, has managed to foster international attention on the pro-democracy movement, especially with her online presence. However, while on bail for the public ordinance charges, she was arrested under the NSL in August 2020 for "colluding with foreign forces".
Further, China has taken greater control over Hong Kong's legislature. Following the enactment of the NSL, a resolution was passed allowing Hong Kong's government to dismiss politicians who are seen as a threat to national security, in other words, those who support Hong Kong independence or those who refuse to acknowledge China's sovereignty over Hong Kong.  Consequently, pro-democracy legislators, who held 19 of the 70 seats in the legislature, have all been dismissed or resigned in protest of China's increasing encroachment on Hong Kong's autonomy. 
Moving Forward
As the number of individuals from Hong Kong detained or arrested under the NSL for expressing an opinion or peacefully protesting quickly grows, the international community needs to denounce China's conduct and impose further political pressure on it to respect international laws. Other countries can also provide refuge for those in Hong Kong who are seeking asylum, much like Taiwan, the United Kingdom and Australia have done. 
In a more blatant expression of opposition, the United States imposed a moratorium on its extradition treaty with Hong Kong. Further, Hong Kong's preferential trade and diplomatic status with the United States has been terminated as a way to put pressure on China's treatment of this commercial hub. 
In response to the sentences imposed on Joshua Wong, Agnes Chow and Derek Lam, United Kingdom's Foreign Secretary Dominic Raab urged Hong Kong and Chinese authorities to "bring an end to their campaign to stifle opposition". United States House Speaker, Nancy Pelosi, labelled "China's brutal sentencing of these young champions of democracy in Hong Kong" as "appalling", noting that "Beijing will stop at nothing to stamp out dissent and to destroy the freedoms and real autonomy guaranteed to the people of Hong Kong." In a similar vein, Amnesty International stated that the sentences imposed violate the right to freedom of expression and peaceful assembly.
In response to these various criticisms, China has minimized the effects of the NSL claiming it only affects a small number of people with the overarching goal of protecting the greater good. Ultimately, China also retorts that the NSL and Hong Kong involve domestic affairs in which the international community should not meddle.
4)    CONCLUSION
The NSL is China's most forceful exercise of authoritarian power over Hong Kong to date. It is seemingly in contradiction with the fundamental rights guaranteed by Hong Kong's own constitution as well as international laws. Despite international pressure to dissuade China from continuing on, it seems that generations of families in Hong Kong stand to pay the highest price. Simple acts of holding an umbrella or a banner with a specific slogan in the streets of Hong Kong could now be construed as criminal offences. The policy of "one country, two systems" is slowly turning into "one country, one system".  In December 2020, after Joshua Wong was sentenced to jail in court, he shouted out to the audience, in Cantonese, "Everyone hang in there, add oil", the latter used as a Chinese phrase of encouragement to provide solace and reassure protesters that the struggle will continue.  But will it?
Suggested citation: Agnes Wong, "Hong Kong's Struggle for Liberation and Democracy" (2021), 5 PKI Global Justice Journal 11.
About the Author
Agnes Wong is a pseudonym used to protect the identity of the author in light of the article's content and current political events in Hong Kong and China. Agnes has been practicing law in Canada for the past several years. She received her law degree from a Canadian university. Agnes thanks her colleague for encouraging her to write this article as it relates to a timely topic that impacts many individuals around the world. 
Image: Jimmy Siu/Shutterstock.com