February 13, 2019
Joseph Rikhof, a member of the editorial board, interviewed Teresa McHenry about the work done by her Section.
When and why was your office created?
The Human Rights and Special Prosecutions Section (HRSP) was created in 2010 as part of an increased focus on human rights related prosecutions by the Justice Department and by Congress. To form HRSP, the Justice Department merged two Criminal Division sections – namely, the Domestic Security Section (DSS) and the Office of Special Investigations (OSI). Each of these had considerable experience with human rights related matters. For DSS, the most prominent case of this type was the successful prosecution, together with the U.S. Attorney's Office for the Southern District of Florida, of Roy Belfast, Jr. (also known as Chuckie Taylor), the son of former Liberian President Charles Taylor. Belfast was convicted in 2008 on torture charges, leading to a 97-year prison sentence. Over its thirty-year history, OSI had brought dozens of successful denaturalization actions against former perpetrators of Nazi atrocities. The combined strength of these two units made HRSP well-equipped to fulfil its mission.
What is your mission?
HRSP's mission is accountability for international crime. We have three major subject matter portfolios.
The first is the bringing of human rights violators to justice. Specifically, HRSP investigates and prosecutes perpetrators of genocide, torture, war crimes, recruitment or use of child soldiers, and female genital mutilation. It also investigates and prosecutes those who commit immigration and naturalization fraud in order to hide their involvement in human rights crimes.
A second major portfolio for our section is the prosecution of perpetrators of international violent crime over which the U.S. has jurisdiction, which are generally crimes committed by or against U.S. government employees.
Finally, the third major portfolio for HRSP is the prosecution of members of international criminal networks that seek to evade U.S. immigration laws, particularly organized criminal networks that smuggle persons into the United States.
Why put those three missions together under one section?
All three of HRSP's portfolios focus on ensuring accountability for crimes that occur outside the U.S. and touch on American interests, whether that is because the crime involved Americans in some way (as victims or perpetrators) or because the perpetrator has attempted to seek safe haven in the U.S. after committing human rights crimes abroad. While the three portfolios involve disparate statutes, oftentimes the cases implicate more than one portfolio, and all of them require skills in conducting complex international investigations and in responding to new and difficult legal challenges. We have seen our litigators build skills that apply across all three subject matter areas, thereby strengthening our efforts in all of them.
How many people work in your section and what are their roles?
HRSP has a staff of around forty people. About half are attorneys. The others are divided nearly evenly into three groups:  historians, paralegal specialists, and administrative assistants. The presence on our staff of historians, who are our in-house regional subject-matter-experts, makes us unique among U.S. Justice Department sections, though I know it's a model also used by the Crimes Against Humanity and War Crimes Section of DOJ Canada. Having our own historians with country expertise is critical to identifying human rights violators and building cases against them with an understanding of the context in which the crimes were committed. HRSP's historians work closely with historians and analysts from Immigration and Customs Enforcement (ICE) and from the Federal Bureau of Investigations (FBI). While the historians at HRSP dedicate most of their time to the Human Rights Violators portfolio, the attorneys and paralegal staff work in all three of HRSP's portfolios. We view this as critical to maintaining their trial skills, since those matters advance to litigation far more frequently than do our human rights violator matters, and many of the experiences they gain in prosecuting violent crime and immigration offences are applicable to our human rights work.
What are the legal tools available to you to hold human rights violators accountable?
HRSP has jurisdiction over five substantive statutes criminalizing human rights violations.  We refer to these statutes collectively as relating to "human rights," but some derive from humanitarian law (the law of war) or other sources. In the order in which they were enacted into U.S. law, these statutes are genocide (Title 18, Section 1091, of the U.S. Code, or 18 U.S.C. § 1091), first enacted in 1988 and amended in 2009 to provide jurisdiction over offenders "present in" in the U.S.; torture (18 U.S.C. § 2340), first enacted in 1994; war crimes (18 U.S.C. § 2441), first enacted in 1996; female genital mutilation (18 U.S.C. § 116), first enacted in 1996 and amended significantly in 2013; and the recruitment or use of child soldiers (18 U.S.C. § 2442), first enacted in 2008. Since their initial enactment, nearly all these statutes have been amended in ways that range from minor technical changes to more substantial expansions or restrictions of jurisdiction or of the definitions of the crimes, and some of them have been amended multiple times.
In addition to these statutes, it is also possible for us to employ other criminal statutes to achieve accountability for crimes that might be viewed as similar to those under our "human rights" statutes. For example, in 2006, we used the Military Extraterritorial Jurisdiction Act to charge Steven Green for the rape and murder of a 14-year-old girl and her family in Iraq; he was convicted in 2009 and sentenced to life in prison. We also extradite persons from the United States to other countries, generally where the conduct occurred, so that they may face accountability there; in those cases, we work with the Justice Department's Office of International Affairs, which coordinates extraditions.
Because our "human rights" statutes are relatively recent and cannot be applied retrospectively, the statutes we use most frequently in the human rights violators portfolio are those concerning visa fraud and naturalization fraud. U.S. visa and naturalization applications include multiple questions designed to elicit information that might reveal grounds of ineligibility. Providing untruthful answers that conceal ineligibility or otherwise constitute material misrepresentations can result in convictions for visa fraud or naturalization fraud.  In cases involving concealment of human rights abuses, the sentences for visa or naturalization fraud can be significant.  Conviction can also lead to denaturalization and removal from the U.S. The statutes in question are 18 U.S.C. § 1425 and 18 U.S.C. § 1546.
We also can have recourse to civil denaturalization, using U.S. Code, Title 8, which governs aliens and nationality. Section 1451 of Title 8 provides for civil proceedings to revoke and set aside citizenship that was illegally procured or procured by concealing of material facts or by making willful misrepresentations. This avenue is particularly important to us when the statute of limitations for criminal naturalization fraud charges has expired. The Justice Department has successfully brought such civil denaturalization actions against dozens of persons implicated in grave human rights violations. Most of these were individuals who, prior to immigrating to the United States, had participated in the persecution of civilians under Nazi auspices during the Second World War.
What agencies do you work with to pursue human rights cases?
We work with multiple domestic law enforcement agencies, including the FBI's International Human Rights Unit and ICE's Human Rights Violators and War Crimes Unit, as well as with Homeland Security's Human Rights Law Section. As many of our cases involve evidence obtained abroad, we have developed productive relationships with many foreign counterparts.
How do you decide which cases to pursue?
When determining which matters to prosecute, we consider a number of factors, including the strength of the evidence and the severity of the alleged criminal conduct. That said, the fundamental principle is that prosecution should commence if the prosecutor believes that the potential defendant's conduct constitutes a federal crime and that the admissible evidence will probably be sufficient to obtain and sustain a conviction. However, prosecution is not pursued if it would serve no substantial federal interest, if the potential defendant is subject to effective prosecution in another jurisdiction, or if there is an adequate non-criminal alternative to prosecution. These factors are not unique to our office; they are spelled out in Department of Justice guidelines applicable to all federal prosecutors.
How do you go about building these cases?
Leads can come from many sources and include anonymous tips, referrals from other countries, and analysis of records maintained by the U.S. From there, we work with law enforcement and our historians to corroborate lead information and identify reliable and admissible evidence that can be used in court. Typical evidentiary materials in our cases would be witness testimony and documents, sometimes including historical records.
What are your biggest challenges in working on human rights related cases?
Time is almost always our greatest enemy. There is nearly always a substantial lag – typically, ten years or more, but as many as seventy years in our Second World War cases – between the human rights violations at issue and the commencement of an investigation and prosecution. This makes these cases very different from those of our office's other portfolios, where we often commence investigations within hours of the crime, or in some cases while the crime is on-going. The large gap in time in our human rights cases, combined with our physical distance from the crime scenes and the fact that we cannot compel the collection of evidence outside of our country's borders, means that these cases can be difficult, time consuming, and resource intensive. We rely on mutual legal assistance and other means of obtaining the cooperation of countries hosting relevant evidence, and while we have had great successes, we continue to face logistical challenges in using these tools. The gravity of these underlying human rights violations is, however, so significant that the United States has directed substantial resources to this effort over the past several decades, and the Justice Department has secured a number of important convictions and other successful resolutions in these cases.
Can you tell us about some of your cases?
Some of our cases derive from 1980s conflicts in Central America. For example, HRSP, together with the U.S. Attorneys' Offices for the Central District of California, the Southern District of Florida, and the District of Maryland, successfully prosecuted in three different cases three persons who had concealed their involvement in a massacre in Guatemala. Two of the defendants, Gilberto Jordan and Jose Ortiz Morales, pled guilty; and one defendant, Jorge Sosa, went to trial.   Evidence presented at trial showed that in the early 1980s all three had been part of Guatemala's elite Special Forces division known as the Kaibiles, with Sosa ultimately becoming an instructor at the Kaibil School. In December 1982, Sosa and approximately forty other Kaibil soldiers, including Jordan and Ortiz Morales, deployed to the village of Dos Erres to recover military rifles that had purportedly been stolen by guerrillas. When the Kaibil soldiers entered Dos Erres, the rifles were not found, and there was no evidence of guerrilla soldiers in the area. According to evidence at trial, these Kaibil soldiers then removed the villagers from their homes, separated the men from the women and children, and raped some of the young girls.  To cover up the rapes, all of the villagers were brought to the center of the village, where the Kaibil soldiers systematically killed the men, women, and children by, among other methods, bludgeoning them on the head with a sledgehammer, shooting them, or throwing them into the village well while still alive.  Both the trial and the sentencing included testimony from a Kaibil soldier who participated in the massacre and from a child who survived it.  Sosa was found guilty by a jury. The two defendants that had naturalized, Sosa and Jordan, were each sentenced to ten years of imprisonment. Ortiz Morales, who had not naturalized, received a lesser sentence.
HRSP has also prosecuted a significant number of persons from the former Yugoslavia who committed war crimes. In those cases, HRSP has been greatly assisted by records obtained by the United Nations International Criminal Tribunal for the former Yugoslavia, records now maintained by the United Nations International Mechanism for Criminal Tribunals. Examples of abuses include the case of Mladen Mitrovic, found guilty in 2016 of obtaining U.S. citizenship by providing false and fraudulent information on his naturalization application. In that application and on prior immigration applications, he failed to disclose his prior role as a prison guard in a detention camp that was part of the "ethnic cleansing" occurring during the Bosnian conflicts of the 1990s. At his 2016 trial, one witness testified that Mitrovic had used a sharp military knife to carve a Christian cross into the witness' chest, saying that from that moment on the victim was "going to be a Serb." Other witnesses testified that Mitrovic, together with others, beat non-Serb prisoners into unconsciousness and threatened to kill them with automatic rifles. Bosnian government documents showed that in February 1996, MItrovic applied for and was later awarded veterans' benefits for his military service in the Bosnian Serb Army (VRS) during the Bosnian War. Trial evidence showed that Mitrovic failed to disclose any of this conduct or military service on refugee and naturalization applications. In August 2016, U.S. District Judge Amy Totenberg of the Northern District of Georgia sentenced Mitrovic to 57 months of imprisonment and granted a motion to revoke his U.S. citizenship.
HRSP also still has, even at this late date, some matters that concern Nazi inhumanity during the Second World War. In August 2018, HRSP helped secure the removal of a former Nazi labor camp guard, Jakiw Palij, to Germany. He had been trained at the SS Training Camp in Trawniki, in Nazi-occupied Poland, in 1943. Documents filed in court by the Justice Department showed that the men trained at Trawniki participated in implementing the Third Reich's plan to murder Jews in Poland, code-named "Operation Reinhard." The Justice Department obtained an order for Palij's removal several years ago, but it was only this year that Germany agreed to take him. He departed the United States on August 20, 2018.
These are but a small sample of the kinds of cases we have brought.
How have American juries reacted to these cases?
As with any other prosecution, results can vary and depend on any number of factors. Our experience over time has been that jurors take these cases seriously and that they will convict when the evidence is compelling.
Does your office only prosecute?
Our main focus is to prosecute cases, which we do in partnership with United States Attorneys' Offices located throughout the United States. In addition to directly prosecuting cases with United States Attorneys' Offices, in some instances our role is to provide support, such as historical expertise, to investigations and cases that the United States Attorneys' offices are prosecuting by themselves. For example, the Department of Justice has recently brought several well-known cases against human rights abusers from Liberia and Ethiopia, and HRSP has been supporting these efforts. HRSP also does policy work, which can include advising policy makers on legislation or participating in broader United States government efforts such as enforcement of the Global Magnitsky Act, which can impose financial sanctions on designated human rights abusers located outside the United States.
In the course of your work, do you work with foreign counterparts with similar missions?
We have excellent relationships with similar units in many countries around the world. We meet twice yearly with the members of the "Genocide Network," which is the shorthand name of the European Network of Contact Points in Respect of Persons Responsible for Genocide, Crimes Against Humanity, and War Crimes. This network is coordinated by a Secretariat hosted by "Eurojust," which is the Judicial Cooperation Unit of the European Union. As non-Europeans, we attend Genocide Network meetings simply in observer status, but these are highly fruitful exchanges, and we are grateful to our counterparts for allowing our involvement. Our counterparts in the Crimes Against Humanity and War Crimes Section of DOJ Canada also regularly attend and are otherwise frequently in touch with us and have always been helpful and responsive.
What emerging issues or situations do you see that may impact your work in the future?
Sadly, mass atrocities are occurring throughout the world, including in Syria, Myanmar, Afghanistan, and the Central African Republic, and all could impact our future work. As we have seen, whenever atrocities occur on a large scale, many people will seek a new life elsewhere. There is always the possibility that some among the migrant flows will be former perpetrators or their collaborators. Even if very few of the migrants from these crises are currently arriving in the United States, we believe that, eventually, many will make their way here. We are also seeing an increase in perpetrators' use of social media and other kinds of electronic platforms to exhibit or discuss their crimes, and we are beginning to assess how we might capture this kind of evidence for use in legal proceedings that may happen years from now.
Where can I get more information about your office, and how can people contact you if they have information to share about a human rights abuser now in the United States?
Information, including more detailed information about our cases, can be found at www.justice.gov/criminal-hrsp. Persons who have information to share about human rights violators located in the United States can contact HRSP at +1-202-616-2492, or they can contact the Immigration and Customs Enforcement Human Rights Violators and War Crimes Unit by e-mail at HRV.ICE@ice.dhs.gov or contact the FBI at +1-800-CALL-FBI (+1-800-225-5324).
Please cite this article as: Teresa McHenry with Joseph Rikhof, "Prosecutors on the Front Line: A Q&A with Teresa McHenry, Head of the Human Rights and Special Prosecutions Section of the U.S. Department of Justice" (2019) 3 PKI Global Just J 41.
About the author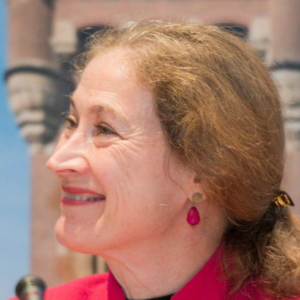 Teresa McHenry is the head of the Human Rights and Special Prosecutions Section within the Criminal Division of the U.S. Department of Justice. She previously served as the head of the Domestic Security Section, the head of the Alien Smuggling Task Force, and a trial attorney in the Organized Crime and Racketeering Section. She also was an Assistant U.S. Attorney for the District of Columbia. From 1994 until 1998, she was on a detail assignment to the Office of the Prosecutor, United Nations War Crimes Tribunal for the former Yugoslavia. Teresa has a B.A. magna cum laude, from Rice University and a J.D., magna cum laude, from Harvard Law School.